ICE at Santa Monica 2012
Ice skate by the beach from November through February
Grand Opening November 08, 2012 6:00PM - 10:00PM
Santa Monica City sponsors the ICE skate rink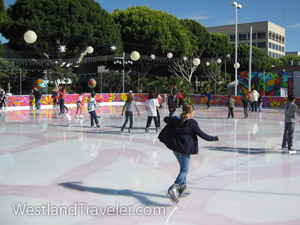 Santa Monica has a lot of surprises for its visitors and from November through February, the ICE at Santa Monica skate rink is one of them. The City of Santa Monica sponsors the ICE skate rink right in the heart of Downtown Santa Monica. Aside from the world-famous Santa Monica Pier and the beautiful Palisades Park, locals and visitors can enjoy the ICE skate rink during winter. Just imagine, clear skies, fresh ocean air and an ice rink for family fun or a skating with friends.
ICE at Santa Monica features 8000 square-feet of genuine ice and a smaller 400-square-foot one for younger children. The rink is located at Arizona and 5th Street two blocks away from Third Street Promenade. There are numerous friendly staff members that are happy to help you and even give skating tips to beginner skaters. This winter you can have the pleasure of enjoying winter ice-skating at 70 degrees. The atmosphere at this outdoor seaside ice skating rink is alive and energetic with flushed faces and cool hands of the skaters. Some of the more talented skaters can be seen doing twirls and loops on ice.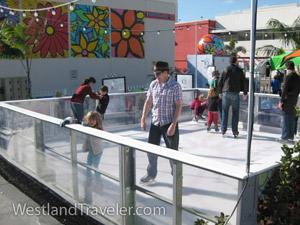 Admission to ICE is $10.00 and this fee includes skate rentals. Skate lessons are also available. This place is perfect for kids and even adults out on the ice for the first time. ICE offers season passes and also caters to special events like birthdays or holiday parties. There is also a concession stand for hot drinks and snacks that are expensive. However, if you are hungry, there is a wide selection of dining options at the Third Street Promenade just two blocks away.
Location:
1324 5th Street
Santa Monica, CA 90401
(Corner of 5th St. & Arizona Ave.)
(310) 496-9880

Open November 5, 2010, through February 15, 2011

Hours of Operation:
Monday - Thursday: Noon-10pm
Friday: Noon-Midnight
Saturday: 10am-Midnight
Sunday: 10am-10pm

Admission & Skate Rental: $10

For more information, please contact Bayside District Corporation (310) 393-8355