Casa del Mar Hotel

1910 Ocean Front Walk
Santa Monica, CA 90405
Price Range:
Rating:
1-800-780-5733
Promo Code: 260363
Casa del Mar Hotel Review
Casa del Mar Hotel in Santa Monica, California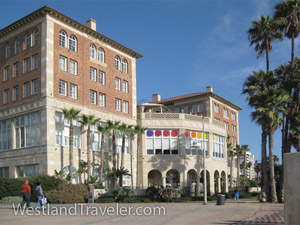 Casa del Mar, an apt name for a noble's "home" by the sea. This European style boutique hotel is located next its sister hotel, Shutters on the Beach. This high-end hotel features a U-shaped that surrounds the pool located on the fifth floor offers ocean views from most of the guest rooms. It is two blocks away from the Santa Monica Pier and is within walking distance of Main Street and Third Street Promenade.
There is rich history behind the hotel. Casa del Mar was first opened in 1926 as a hotel and beach club and became "the" place to be for celebrities to go to get away from Hollywood and escape to the beach. After that, it served as a housing for the military during World War II, then as a clinic for drug therapy, and finally as a Pritikin Longevity Center. It was renovated in 1999 and reopened as the new luxurious Casa del Mar, a good move since the hotel's location attracts visitors much like it did in its heyday in the twenties and thirties.
Casa del Mar has a heated outdoor swimming pool that allows guests to view the ocean while taking a swim or relaxing by the pool. Wicker lounge chairs surround the pool and the surrounding area is adorned with a fountain and decorative stone work. The Palm Terrace offers al fresco dining while drinks may be served at the poolside or at tables in the garden.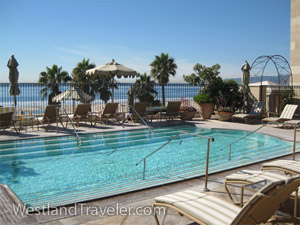 The hotel's oceanfront restaurant, Catch, has a light atmosphere with high ceilings, large windows, and the delectable dishes like pasta and seafood whipped up by Chef Jason Bowlin. The dining room is a remarkable too, with white wicker chairs and tables covered with white linen, and a mother-of-pearl bar. Most of the guests at Catch are local residents that just want experience the opulence that Casa del Mar has to offer.
Another remarkable place at Casa del Mar is its lobby lounge, The Veranda, with its 20-foot high bay windows that give a one-of-a-kind view of the ocean and the Santa Monica Pier. The Veranda serves breakfast, lunch, light meals and cocktails. Live entertainment is also provided Wednesdays through Friday. This area is also a favorite of locals, hotel guests and tourists for its plush sofas, oversized leather chairs, large Fireplace and its great view of the sunset over the ocean. The Veranda also has a very popular Happy Hour at Casa del Mar.
For rest and rejuvenation needs, the hotel provides the Sea Wellness Spa. Body and facial treatments are available, along with other services and wellness programs. The spa offers complimentary yoga and workout classes.
This eight-story smoke-free hotel with its 1920s villa-like design has 129 guest rooms and suites, all with functional windows to let in the sea breeze. Each guest room is compact, compared with other upscale hotels. The homey feel of the sea-themed books neatly arranged in the built-in shelves offsets the size of the room. Rooms have a stocked mini-bar, coffee maker, and a teddy bear on the pillow. Add the lavishly decorated four post bed, the opulent bathroom with white Italian Calacatta marble and a Jacuzzi, and the grand European décor and you won't feel that you spent much on your lodgings. The room has a summer atmosphere, with light filtering in from bay windows, the presence of tropical plants with the walls painted with golden colors reminiscent of Tuscany. Other amenities you find in each room are air conditioning, a bathrobe, TV with cable/satellite television channels, a CD player, a clock radio, complimentary toiletries, cribs available upon request, high-speed Internet access for a fee, a DVD MP3 docking station, a hair dryer, hypo-allergenic bedding available, an in-room safe, a multi-line phone, premium bedding, a separate sitting area, voice mail maid service and on-site and 24 hour room service.
Other services offered at Casa del Mar include babysitting or child care, complimentary newspapers in the lobby, concierge services, currency exchange, hair salon, internet access in public areas for a fee, a multilingual staff, valet parking for a fee, a safe-deposit box at the front desk, and shoe shine. For business travelers, the hotel also offers audio-visual equipment, a business center and conference rooms. Casa del Mar is handicapped-friendly. Check in time is 4:00 PM and check out time is 12:00 PM. Minimum check-in age is 21.
Casa del Mar is one of the most exceptional hotels on the West Coast and will provide and memorable experience by the beach