Santa Monica Travel Guide
Where to go, eat and stay in Santa Monica, California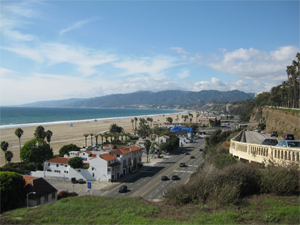 Overview
Santa Monica, a coastal city just a few miles from Los Angeles, California and is known for its picturesque beaches and pleasant moderate Mediterranean climate. Santa Monica has a dramatic setting over 200 feet above the beach with rugged cliffs that drop-off along the shoreline The city enjoys fresh sea breezes coming in from the Pacific Ocean with an average year round temperature near 70 degrees Fahrenheit (21 degrees Celsius). For surfers and skateboarders, Santa Monica also borders funky, world famous Venice Beach.
Santa Monica features world class hotels, restaurants and shopping. Tourist are drawn to the many attractions such as Santa Monica Beach and the Santa Monica Pier, immortalized by Hollywood in many movies such as the The Sting and They Shoot Horses Don't They. It is really a place to be, if you want to have fun in the sun playing beach volleyball, biking, rollerblading or "people watching" to your heart's content. For the more adventurous, a hike in the near by Santa Monica Mountains will be a rewarding experience.
For the Earth-loving tourists, you will be delighted to know that Santa Monica is a "green" city with bicycle-friendly streets. The people in Santa Monica believe in creating a healthier, cleaner, safer and more beautiful city. Santa Monica is also a tourist friendly place, with three Visitor Information Centers with travel counselors available to assist you. Santa Monica is just a few miles from the Los Angeles International Airport (LAX) and is a short car ride away from tourist attractions within the Los Angeles Area, such as Hollywood, Disneyland, Beverly Hills and Universal Studios and a short walk to world famous Venice Beach.
Where to Stay in Santa Monica
There are many luxury hotels in Santa Monica and they are some of the finest on the West Coast. To enjoy the best resort on the beach, Shutters on the Beach is a luxury hotel with a beach cottage ambiance. To experience a grand hotel on the beach there is the historic Casa del Mar Hotel with European décor and elegance. Other fine hotels on Santa Monica Beach include the Le Merigot Hotel with a french twist and the large Loews Santa Monica Beach Hotel wtih numerous rooms with ocean views. Another hotel with superb service is the Fairmont Miramar Hotel with its luxury bungalows nestled within their lush garden. There is also the Hotel Oceana with a light and airy feel with ocean view rooms and a short walk to the beach. For a hip experince and to mingle with the Hollywood crowd, try the Viceroy Hotel. For something different, try the Channel Road Inn Bed & Breakfast in Santa Monica Canyon.
Things To Do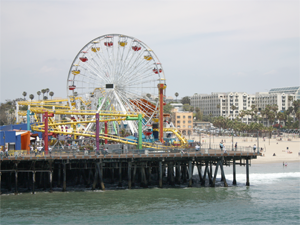 Go to the Santa Monica Pier
Santa Monica Pier is one of California's oldest pleasure piers. Visiting the famous pier is free and it is open 24 hours a day, 365 days a year. This famous pier is within walking distance of the Third Street Promenade and the newly refurbished Santa Monica Place Mall and offers one of the most spectacular sunset views in California.
At the pier, children will also enjoy in the historic carouse and the amusement rides at the Pacific Park with their solar-powered Pacific Ferris Wheel, five-story tall West Rollercoaster, and the nine-story tall Pacific Plunge Tower Ride. There is also the Playland Arcade with video games, air hockey, shooting gallery and the old fashion skeeball. Another great pier activity is the Santa Monica Pier Aquarium with a small donation for admittance. Parking is available on both the pier itself and on the large beach parking next to the pier.
Explore Santa Monica beach
Santa Monica beach is a wonderful place for picnics, sun bathing, surfing, beach volley ball and people watching. Because of the pleasant climate and an average of 300 sunny days a year, you can enjoy the beach during any season. Lifeguards are present during the summer for your safety as you swim, surf or just wade in the cool California waters.
Another great activity is the Beach Bike Path for bicycling or rollerblading. There is also a wide promenade along the beach for jogging or walking. Don`t forget your camera because the panorama of ocean, mountains and people is a once in a lifetime photo opportunity.
Take a walk along Main Street
Main Street runs south for 11 blocks from Pico Boulevard to Navy Street with most restaurants and shopping concentrated toward the middle and south end of the street. It is the local watering hole for locals and tourists and is just two blocks away from the beach. Main Street is home to fashionable retail shops and boutiques, and is a fun place to spend the day strolling and window-shopping. The bars are great venues for nightlife and entertainment.
Main Street is also home to two theaters; the Edgemar Theatre of the Arts that features two stages with plays and other productions and Powerhouse Theatre that also offers a wide variety of productions. Parking is available on the street and in various private lots; however the pest parking can be found at the municipal lots between Main Street and Nielsen Avenue.
Visit the Third Street Promenade
Third Street Promenade, encompassing three city blocks and is a pedestrian-only street in Downtown Santa Monica. It is found between Wilshire Boulevard and Broadway, just three blocks inland from Santa Monica Beach. Since the Promenade is completely closed to car traffic and is exclusively for pedestrians and it is great for children.
At Third Street Promenade, you can have your choice among the many restaurants, movie theaters, shops, bookstores, and bars. Add street performers, musicians, dancers and other acts, and you are in for an very entertaining time. Third Street Promenade is also Santa Monica's most popular shopping place, with many unique boutiques and vibrancy that sets it apart from all other areas.
Go to Montana Avenue
Montana Avenue is the place to be if you want to experience high-end shopping, local boutiques or just socialize in the many coffee shops. The main activities on Montana Avenue are between 7th St. and 17th St. There are lots of great places to eat at the many restaurants and cafes. This is the place where you will most likely get to rub elbows with Hollywood celebrities as you enjoy a day of shopping and fine dining. The shops flaunt expensive shoes and apparel, antiques, luxurious jewelry and accessories, art work, cutting edge home furnishings and gift items. Spas and salons also abound on Montana Avenue, providing lavish services and treatments to their wealthy and celebrity clients. On Montana Avenue, you will see the affluent locals with their pedigree puppies, "Hi Paris, how is your Yorkie Lola? Could you pose for a photo? Thank you so much!" You will be delighted with your visit to Montana Avenue.
Free Summer Concerts at the Santa Monica Pier
The Santa Monica Twilight Dance Series is a series of free concerts that was started in 1983 and is still going strong. The event happens on Santa Monica Pier on Thursday evenings starting at 7:00 PM during the summer months. There have been many popular musicians at the Twilight Dance Series. Some of the artists to have graced the stage including Joan Baez, Indigo Girls, Patti Smith, Los Lobos and others.
Since the concert happens at the pier itself, don't expect to get any form of organized seating. Instead, bring a cushion or a folding chair and claim your spot early. However, if you are sitting near the stage, once the concert starts everyone will be standing. It's great night of entertainment for the whole family, you may choose to bring a blanket or picnic. Many people just sit on the beach and listen to the concert on the sand. Riding a bike there may be the best way to get to the concert and they offer bike valet parking
Annenberg Community Beach House
The Annenberg Community Beach House is a new facility operated by the city of Santa Monica. Originally it was the mansion built for the silent film actress Marion Davies. It has a heated pool with locker rooms, volleyball and tennis courts. There is also a large snack bar adjacent to the beach house. The remaining original structure from the Davies' mansion has been converted to a historical museum.
Farmers' Markets in Santa Monica
The Downtown Farmers' Markets, are some of the oldest certified farmers' markets in California, holds two markets on Wednesdays and Saturdays each week. The markets are located on Arizona Avenue at the Third Street Promenade and features over 70 local farmers on Wednesdays and over 40 farmers on Saturdays. The other popular market is the Main Street Farmers Market on Sunday featuring a live band, prepared food and a merchandise as well as pony rides for the kids. Find out about special events and closures at the farmers' market schedule.
Visit the Angels Attic Museum
Angels Attic Museum, located near the corner of Colorado Avenue and 5th Street and a short walk away from Santa Monica Pier, is every doll-collector's dream. It features seven galleries with many display cabinets filled with dollhouses, miniatures, collectibles, books and other gift items. The dollhouses, dolls and their accessories themselves are history lessons, offering glimpses of the architecture, interior design, fashion style, paintings, books and toys of long-gone eras. All items on display are for sale.
Angels Attic Museum is open on Thursday, Friday and Saturday from 12:00 noon to 4:00 PM and the address is 516 Colorado Ave., Santa Monica. They are closed during all major holidays. There is a low admission fee and they are available for special events like birthdays, bridal and baby showers.
Getting To Santa Monica
Air Travel
Commercial flights for tourists with Santa Monica as their destination usually come through the Los Angeles International Airport (LAX), about four miles away. From the Los Angeles International Airport, you may take an Airport Shuttle. Many of the Santa Monica Hotels offer free shuttle service. To get to Santa Monica from LAX, get on the Airport Shuttle C and look for a blue triangular Big Blue Bus Line sign and wait for the bus. Buses run about every 20 minutes on weekdays.
Santa Monica Airport is a small airport servicing only small private planes. Other airports that are not that close to Santa Monica are the Bob Hope Airport in nearby Burbank and is a thirty minute to an hour's drive away. There is also the John Wayne Airport in Orange County and can be a two hour drive to Santa Monica with traffic.
Car Travel
Travelers with their own transportation may take the Interstate 10 Freeway to the 4th or 5th Street exit. You will find yourself just several blocks way from the Santa Monica Pier.
By car, Santa Monica is between 15-20 minutes away depending on traffic from the Los Angeles International Airport. Car rental companies abound at or near the LAX. Taxis and limousine services are readily available. Santa Monica Pier is the symbolic end of Route 66, the historic roadway between Chicago, Illinois and Santa Monica, California.
Bus Travel
Getting to Santa Monica by bus is not that easy anymore. The Greyhound Bus station in Santa Monica is closed. You will need to arrive at the Los Angeles Greyhound Station and take their bus shuttle or one of municipal busses. For more information, call Greyhound at 1-800-231-2222.
For getting around Santa Monica by bus, the first choice is Santa Monica's Big Blue Bus service. The Big Blue Bus is a great service and you can call them at 1-310-451-5444 for route information. There is also the Culver City Bus and you can reach them at 1-310-253-6500.
By Train
You will need to arrive at the Los Angeles Amtrak at Union Station. From there you can take a taxi but the best deal will be taking Santa Monica's Big Blue bus to Santa Monica.
Getting Around Santa Monica
Santa Monica can be congested with car traffic and parking can be a challenge. If you are staying at one of the hotels near the beach, there are many destination within walking distance such as the Santa Monica Pier, Santa Monica Beach, Third Street Promenade, Santa Monica Place Mall and Palisades Park. You can walk to Main Street or Montana Avenue, but it is a long way and you should have comfortable shoes.
You may take the Big Blue Bus that services the local area and greater Los Angeles. The bus line can take you to some of Santa Monica's neighboring areas such as Brentwood, Westwood and Venice Beach. Big Blue Bus information is available at the Big Blue Bus Transit Store at 223 Broadway or call at 1-310-451-5444.
You may also choose to take a taxi to places within the city. Taxis can be found on Santa Monica Blvd. and Arizona Ave., just close to Third Street Promenade. Another option is for you to rent a bike and explore. Santa Monica is a bicycle-friendly city with well-marked bicycle routes and paths.
Restaurants in Santa Monica
Fine Dining
JiRaffe, 502 Santa Monica Blvd.
Many people claim the JiRaffe restaurant is the best dinning experience in Santa Monica. With its great location, romantic lighting and beautiful decor, it is definitely the place to go for the best night out in Santa Monica. The food is simply delicious.
The Lobster, 1602 Ocean Avenue
What could be better, great lobster and seafood with a view of the ocean and the Santa Monica Pier? The restaurant features locally caught fish and fresh vegetables from the Santa Monica Farmer's Market. After dinner you can have a walk along the Beach.
Ocean and Vine, 1700 Ocean Avenue
A Chic restaurant with spectacular ocean views. It is the restaurant and lounge at Loews Santa Monica Beach Hotel. Wonderful food and ambiance.
Melisse, 1104 Wilshire Blvd.
One of Santa Monica's most superb restaurants and one most of the most expensive. This is Chef Josiah Citrin' latest restaurant. Enjoy French cuisine with a homey decor.
Best Value for Great Restaurants
Blue Plate, 1415 Montana Avenue
This small and cozy restaurant is the epitome of California casual dining. Located in the heart of Montana Avenue, this restaurant is a pleasant surprise.
Real Food Daily, 514 Santa Monica Blvd.
This is a premiere organic vegan restaurant that serves great food no matter your lifestyle. A relaxed and casual atmosphere with an inspired menu with items like a vegetarian Reuben sandwich. Try the cold soba salad or the Caesar wrap.
Planet Raw, 609 Broadway
This restaurant is an eco-conscious experience. 100% organic raw vegan food that is healthy and tasty. A friendly staff with a warm and welcoming atmosphere.
Typhoon, 3221 Donald Douglas Loop
This restaurant is on that Santa Monica Airport featuring unusual Pan-Asian dining. Some of the best dishes are the steamed whole fish catfish or bass. Well known for it's exotic friend insects. You can watch the planes land and take off while you eat.
Eating Good Under $12
Bay Cities Italian Deli, 1517 Lincoln Blvd.
Expect long lines, but the wait is worth it. Great deli sandwiches and an authentic Italian market.
Greens Up! Salads, 703 Montana Avenue
The ingredients are fresh and delicious and you do get your money's worth. They serve healthy salads that fill you up. The dressings are unique and delicious. A friendly staff that makes great suggestions.
Rae's Restaurant, 2901 Pico Blvd
This place has been here forever and has been a filming location for movies and television because of its authentic 1950's look. Great place for breakfast.
Tacos Por Favor, 1406 Olympic Blvd.
Authentic Mexican food that serves delicious tacos and chicken mole burritos. Good salsa bar with pickled carrots.
Shopping in Santa Monica
There are great places to shop in Santa Monica. There is the Third Street Promenade, which is three blocks of shops and restaurants. Next to the Third Street Promenade is the newly remodeled Santa Monica Place Mall which is now an open air mall featuring upscale shops and restaurants. Montana Avenue is a popular place to shop or just stroll along the streets with its many coffee shops. Main Street is another popular shopping destination with a vibrant nightlife.
History of Santa Monica
According to historians, Santa Monica borrowed its name from Saint Monica of Hippo. In 1769, a Franciscan monk, Father Juan Crespi, chose the name after he was inspired by the free-flowing natural springs, reminding him of Saint Monica who shed a lot of tears for her wayward son, St. Augustine. Another version of how Santa Monica got its name is that the city was named after Saint Monica since the Spaniards who came to what is now Santa Monica first set foot on its shores on the feast day of the Saint.
In 1828, Mexico, free from Spain, divided Santa Monica into three expansive land grants. Santa Monica then became a lively winter vacation spot for rich Easterners and opportunities for commerce started trickling in.
In the 1870s, several prominent people bought the land. Nevada Senator John Percival Jones, considered as the founder of Santa Monica, also purchased some land. Senator Jones, together with Colonel Baker, plotted the city's map, providing lots of space for parks. The land was then subdivided, and the first residential lot was sold for $300. In just a few months, the quiet seaside town grew to a population of 1,000.
In 1887, the 8.3 square miles wide of Santa Monica was incorporated. Business started to boom. Jones built a wharf out into the bay and the Los Angeles and Independence Railroad, connecting Santa Monica to Los Angeles. The town's business district was then concentrated around what is now the present-day Third Street Promenade.
In 1909, the famous Santa Monica Pier, the oldest pleasure pier on the West Coast, was opened, attracting a crowd of thousands. By the 1920s, Santa Monica has become the home of Hollywood's "A-list" and the population bloomed to 37,000.
In 1924, the La Monica Ballroom built on the Santa Monica Pier, attracted dancers from all over the globe. The ballroom could accommodate 10,000 people in the 15,000 square-foot structure. The ballroom, which later became one of the largest roller-skating rinks in the US, hosted quite a number of radio and television broadcasts, before it was torn down in 1962.
The area known as the Gold Coast became a must-have real estate for celebrities. The stretch along the Santa Monica coast was also called Rolls Royce Row. Famous celebrities who had homes in Santa Monica include: Greta Garbo, Will Rogers, and Cary Grant to name a few.
In 1929, newspaper tycoon William Randolph Hearst built one of the most magnificent mansions on Santa Monica beach for his mistress, actress Marion Davies. One of the structures still remains on the almost five acre lot and the building has been restored as a museum. The City of Santa Monica now owns the property and has converted it into the Annenberg Community Beach House, which is open to the public that includes the original historic pool.
The Great Depression of the1930s hit Santa Monica deeply. Unemployment rates soared and businesses went bankrupt. The Santa Monica Pier became a cheap form of entertainment for the locals. The Muscle Beach started to attract gymnasts and bodybuilders. Business started picking up with the onset of World War II.
In 1960, the Santa Monica Freeway was built, bringing Santa Monica closer to the rest of Los Angeles. The 1970s saw the emergence of fitness and health-related businesses. The city started to recover in the 1980s. The once-dilapidated Main Street got a face-lift with the emergence of expensive boutiques and restaurants. Third Street Promenade opened in 1989 and welcomed 7,000 visitors daily.
Santa Monica Pier has recently celebrated its 100th year anniversary with a grand centennial celebration. Santa Monica is now one of the prized jewels of the Los Angeles area. It is a sought after destination for travelers from all over the country and from all over the world.