Santa Monica Downtown Farmers' Market
The Santa Monica Downtown Farmers' Market is the oldest certified growers market and the most popuar in the area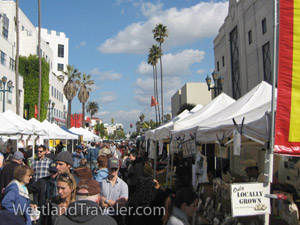 On Wednesdays and Saturdays, the Downtown Farmers' Market is one of the oldest certified farmers' markets in California and the first city run market. It has been the "go to" place for residents and local restaurants to get the freshest produce for over 30 years. It boasts the fact that it is a "farmer only" market, featuring the wonderful locally grown California produce from hardworking farmers who raise the top rated products.
Downtown Farmers' Market draws about 12,000 visitors per week. Located on Arizona Avenue from Second Street to Forth Street and crossing in Third Street Promenade, it encompasses more than four city blocks. This farmers' market is an extensive, so be prepared for a lot of walking to see all of the items on display. Expect to find exquisite produce from the esoteric potatoes of the Weiser Farms to the tasty English peas of the McGrath Farms to fresh fromage blanc of the Harley Farms.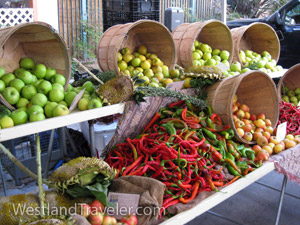 Every week, a different restaurant is featured in the food tent from 10:00 am to 1:00 pm. This allows the featured restaurant to show off their tasty dishes and delectable cuisine to the crowds at lower prices. Neighboring cafés and restaurant patronize the Downtown Farmers' Markets. Local chefs regularly buy fresh produce to include in the delectable dishes at their restaurants. Hence, there exists a mutual and beneficial relationship between the Downtown Farmers' Market and the surrounding neighborhood, keeping the market and the local businesses going strong.
The Downtown Farmers' Market runs on Wednesdays from 8:30 am to 1:30 pm and Saturdays from 8:30 am to 1:00 pm. The Wednesday Downtown Farmers' Market was the original and the most popular. Find out about special events and closures at the farmers' market schedule. Parking is available at the Third Street Promenade parking structures and is free for the first two hours, but you will need to get there early because they fill up fast. Another great farmers' market in Santa Monica is the Sunday Farmers Market on Main Street which is more of a social experience with a live band, pony rides and merchandise for sale.