Fairmont Miramar Hotel & Bungalows

101 Wilshire Blvd
Santa Monica, CA 90401
Price Range:
Rating:
1-800-780-5733
Promo Code: 260363
Fairmont Miramar Hotel Review
The Fairmont Miramar Hotel and Bungalows in Santa Monica, California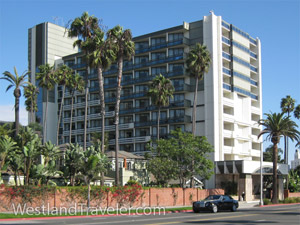 The Fairmont Miramar Hotel is nestled on the scenic bluffs overlooking Santa Monica Bay stands proud, being one of Santa Monica's finest hotels since 1921. It was a favorite destination for Hollywood celebrities in the past, yet it still has that celebrity cachet that never leaves the true fan. Located at the end of Wilshire Boulevard, the Fairmont Miramar hotel has two hotel towers as well as 32 luxuries bungalows spread out throughout the hotels lush grounds. The hotel is within walking distance of the beach and other Santa Monica attractions and just across the street is the picturesque Palisades Park with a panoramic view of the Santa Monica bay from Malibu to the Palos Verde Peninsula.
Fairmont Miramar Hotel was voted as "one of the top 100 U.S. hotels by the most discerning travelers on earth" according to Conde Nast Traveler Reader's Choice Awards. Fairmont Miramar Hotel has meticulously-manicured grounds, a flourishing green garden and a beautiful courtyard that guests may enjoy year-round. All indoor public areas are fully-air-conditioned, smoke-free and with Wi-Fi Internet access for a fee. A beautiful free-form outdoor swimming pool and spa tub surrounded by private sun decks.
Some of the hotel's top draws include a unsurpassed health club and spa, an on-site restaurant, and spacious meeting rooms. Exhale Mind/Body Spa, with five treatment rooms and a variety of programs and services, fufills guests' beauty, healing, relaxation and rejuvenation needs. The on-site gym is open 24 hours and has a comprehensive exercise room with 12 workout stations and the latest state-of-the-art equipment. The FIG is their first-class restaurant with a casual and intimate ambiance and offers seasonal dishes for breakfast, lunch and dinner. The ingredients used by Chef Ray Garcia in creating appetizing meals are 90 percent organic and sustainable, coming from local farmers and fishermen. The FIG Restaurant has also come up with its own poolside gourmet hot dog cart. Guests may take a bite of FIG's signature FIG Dog with cheesy fondue, bacon-habanero marmalade. The FIG is open Tuesdays to Saturdays from 5:00 to 10:00 PM and there is also a great FIG Happy Hour. Fairmont Miramar Hotels' Lobby Lounge, located by the Koi fishpond and waterfalls, serves lunch, dinner and cocktails, imported and domestic beers, and wine by the glass. For coffee-lovers, cappuccino and espresso are also served. There is a complimentary business center open for travelers with access up to four computers.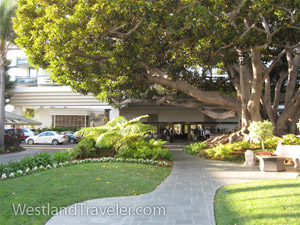 The ten-story Ocean Tower offers rooms with spectacular ocean views and the six-story historical Palisades wing has traditional guest rooms. There are 302 rooms at the Fairmont Miramar with 51 of them being luxury suites. In addition there are the 32 secluded garden bungalows nestled among the palm trees and tropical flowers. It is a real delight to stroll through the tranquil grounds featuring waterfalls and manicured gardens. The bungalows feature magnificent rooms with French doors that lead to private patios
All rooms are non-smoking and well appointed with bathrobes, blackout drapes, cable television channels and pay movies, an in-room safe large enough for a laptop, climate control, complimentary newspaper, fine toiletries, electronic magnetic keycards, electronic check-out, high-speed Internet access for a fee and a minibar. Hypoallergenic bedding, cribs, rollaway beds and refrigerators are all available by request.
Other amenities offered at the hotel include a 24-hour front desk, laptop computer rentals, dry cleaning and laundry service, 24-hour room service, ATM banking, complimentary newspapers in lobby, concierge desk, a barbershop, currency exchange, doorman, express check-out, limo or town car service available, multilingual staff, safe-deposit box at the front desk, security, tour assistance and wedding service. Pets are allowed with no pet fee. There is no room charge for children staying with you under 17 years old. There are elaborate banquette and meeting rooms for events or business travelers with event catering.
A stay at the Fairmont Miramar Hotel in Santa Monica is to experience one of most luxurious hotels one could hope for.