Santa Monica Farmers' Market on Main Street
The Farmers' Market on Main Street in Santa Monica features certified growers and organic produce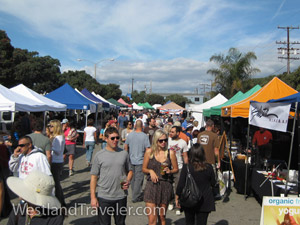 Sunday is a special day at 2640 Main Street in Santa Monica. The grass lawn between the Heritage Museum and the Victorian Bakery and the adjacent parking lot transform into a marvelous farmers' market. This is a family oriented farmers' market with an emphasis on social gatherings as well as being one of the finest farmers' markets in the area. From 9:30 in the morning to 1:00 in the afternoon, locals and tourists browse through a wide assortment of goods on display at reasonable prices. The northern part of the Sunday Farmers' Market features the farmers and their produce while the southern part features the prepared-food and craft vendors.
This Farmers' Market, as well as the Downtown Farmers' Markets in Santa Monica is dedicated to promoting sustainable farming in California, as well as encouraging people to live healthy lifestyles by eating fresh fruits and vegetables. That is why at the Farmers' Market the produce on display comes freshly picked from small local farms and into the hands of the discriminating customer. This ensures that the livelihood of local farmers is preserved and the precious farmlands of California are used to their full potential. in addition, most of the farmers grow their products organically, without the use of harmful chemicals or fertilizers. Depending on the season, customers will appreciate bright strawberries, black mission figs, purple potatoes, white sweet corn and numerous favorite fresh fruits and vegetables.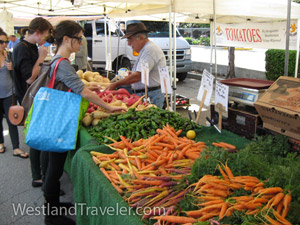 When shoppers do get hungry, there are prepared meals for breakfast, lunch and snacks. Sustainability at the Sunday Farmers' Market even extends to the food stands that serve food. The plates and other food packaging are biodegradable, so after meals the customer can simply throw the refuse into the "biodegradable" bin. It's a great experience when they buy something fresh for dinner while enjoying the vibrant atmosphere and smells of the fresh farm products and cut flowers.
The atmosphere at the Sunday Farmers' Market is reminiscent of a street fair. Many vendors sell packaged goods such as cheese, raw milk, unique clothes and handmade jewelry. Visitors to the Farmers' market may enjoy live music from local bands playing on the lawn as they stroll among the items on display. Each Sunday, a different band entertains the crowd. Find out about special events and closures at the farmers' market schedule. Children also appreciate the alternating petting farm and the pony rides that are sure to entertain them.
Getting to the Sunday Farmers' Market is easy. Just take Lincoln Boulevard exit off the 10 Freeway, go south, turn right on Ocean Park, then proceed a few blocks to Main Street. You can't miss it. Street parking and private and municipal parking lots are available. Taking a bicycle to the Farmers' Market is an easy option since they have a great bike valet service.