Hotel California

1670 Ocean Ave
Santa Monica, CA 90401
Price Range:
Rating:
1-800-780-5733
Promo Code: 260363
Hotel California Review
Hotel California in Santa Monica, California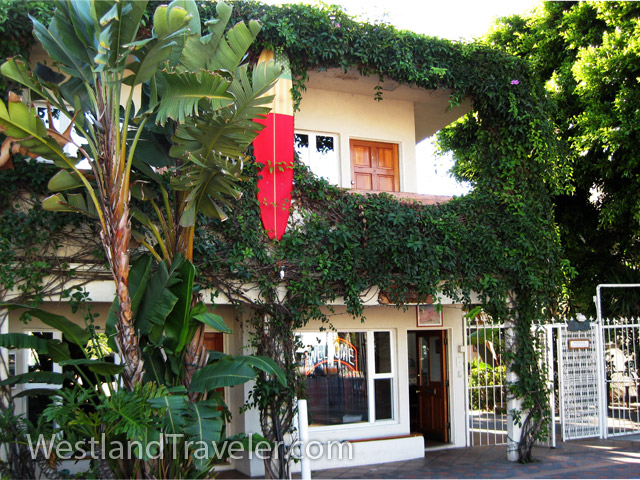 Hotel California, though not the infamous hotel in the popular song, is a charming hotel situated just above Santa Monica Beach. Located on Ocean Avenue, the well-kept Hotel California welcomes guests with its casual and laidback Southern California beach décor. This surfer friendly hotel with guitars and surffboards prominantly displayed on the walls, is just steps away from the beach and the world-famous Santa Monica Pier, which can be accessed through a private path. The two-story Hotel California is also close to hip bars and restaurants along Ocean Avenue and Main Street.
Hotel California first opened in 1948. This hotel is great for short-term vacations or extended stays with its affordable rates. The lobby offers a computer with free internet access and 24-hour complimentary coffee or tea. Guests are also served a complimentary breakfast. The hotel is smoke-free however there is an exterior smoking patio. Hotel California welcomes guests with its casual and laidback Southern California beach décor. With lush plants growing along the walls and in the courtyard, Hotel California exudes a peaceful tranquility.
Each of 35 cheerful smoke-free rooms in Hotel California are cozy and comfortable. The hardwood or tile floors come with wood paneling on the walls and contemporary Californian artwork. Added amenities are the Beauty rest mattress, down pillows, and 300-thread count bed sheets, and in some rooms, surfboard headboards. Each guest room also has a flat screen TV. For guests who constantly need to be connected to the net, the free wireless Internet access in the room is a plus. Though the rooms don't come with air-conditioning, a ceiling fan is provided and it's usually cool down at beach. The small bathrooms are clean, yet only a few of rooms have bathtubs. Hotel California is less than a block from the beach, but there are no great ocean view rooms. There are rooms with a courtyard view, but they cost a little more.
For extended stays, the hotel has five fully furnished one-bedroom suites to cater to guests' needs. Each of the suites in the hotel features a living room and kitchenette which has a mini-fridge, a stovetop, microwave, toaster oven, a sink, a dining set for four, a table for two, a loveseat, a foot rest and a storage box/table. The living room and bathroom have skylights and large windows that can be fully opened. The hotel provides a free laundry room with free soap.
The front desk can arrange guided tours for guests. Some of the tours include Beverly Hills, Movie Star's Homes tour, Rodeo Drive and Universal Studios tour, to name a few. The hotel also provides airport transportation, for a fee. Use of nearby fitness facilities comes with a discount for guests. Hotel California has a parking lot, though the space is quite limited; however, street parking is available.