Cock n' Bull
2947 Lincoln Blvd
Santa Monica, CA 90405
Price Range:
Rating:
Cock n' Bull Restaurant and Bar Review
Cock n' Bull Bar and Restaurant in Santa Monica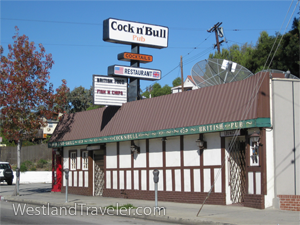 Cock n' Bull in Santa Monica offers patrons an authentic British bar and restaurants experience. Complete with the typical British decor. This restaurant and bar is a favorite of sports fanatics, beer lovers, and British expatriates. Cock n' Bull is well known as a top Soccer Bar being rated as the 5th top soccer bar by GQ Magazine and in 6th top 6 soccer bar by Sports Illustrated.
Cock n' Bull is located on Lincoln Boulevard in Santa Monica near Venice. This bar does not try to be trendy or upscale. It's just is a pub that attracts many customers for its casual atmosphere, sensible prices and the British feel. The restaurant serves traditional British cuisine including a full English breakfast, lunch or dinner with breakfast being served throughout the day. Favorites are Fish n' Chips of course and the Bangers and Mash which is English sausage with mashed potatoes and grilled onions. On Sunday, the Cock n' Bull serves a traditional British roast lamb or beef with English Yorkshire pudding and roast potatoes as side dish. The food is definitely prepared for an English pallet, meaning plain and without much seasoning.
The pub serves an extensive list of beers on tap. Each beer comes in 20-ounce glasses. For those who seriously want to enjoy their beer, Stella, Guinness, Strong Bow and Blue Moon Belgian can be ordered by the pitcher to go with the meat pies and fish and chips. The prices for the food and drinks are reasonable enough, but credit cards are not accepted and diners need to pay in cash. If one runs out of money, don't worry as there is an ATM nearby. However, the ATM apparently charges steep fees.
Cock n' Bull's atmosphere can be described as bright and unpretentious. The bar features oak-paneled walls, a couple of pool tables, a jukebox, dartboards and many high-definition TVs. The bar is a great place to watch the English Premier League and World Cup Soccer games live. Added in for good measure is a small stage in front of a large mural of John Lennon for the live performances. On Sundays, the pub shows NFL action on the televisions. Cock n' Bull features a Happy Hour from 4:00 pm to 7:00 pm. Happy Hour happens from Monday to Friday. Guests can order beer at reduced prices.
Tuesdays offer salsa lessons and dancing while Thursdays are the days to go for a fun trivia night. On Friday and Saturday nights, diners get entertained by live music in the bar. Not only that, Cock n' Bull also offers free Wi-Fi Internet access. The bartenders, mostly Brits, are friendly and helpful. The club does get crowded but that is not a problem, as the bar is quite large. Parking is easy to find, there is a free just lot north of the pub and metered parking on the street.