Sunset Strip Music Festival
The Hollywood rock music event of the year
Sunset Strip Music Festival Photo Gallery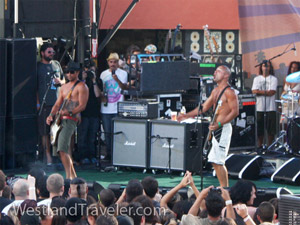 Rock bands were performing live on two stages as well as in the clubs on the strip.
See more photos
The City of West Hollywood hosted the Second Annual Sunset Strip Musical Festival featuring top heavy metal bands. This was a three day event which climaxed on Saturday with the closure of the legendary Sunset Strip, featuring Ozzy Osbourne as the Honoree of the Valentine Award, naming Thursday Ozzy Osborne Day. Two outdoor stages where erected on the boulevard with alternating rock performances throughout the day. The shows started at 2:00 in the afternoon and went late into evening.
Ozzy Osbourne blew the crowd away with a 45 minute set. This was Ozzy's big return to the Sunset Strip since he performed a five-night concert with Black Sabbath at the Whisky a Go-Go in 1970. Other rock bands entertained crowds including Korn, Kottonmouth, The Donnas and Fishbone. It was a head bangers' delight.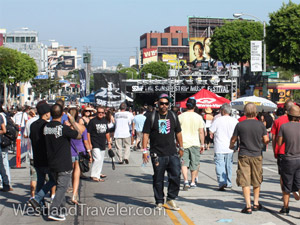 The festival drew huge crowds with everyone having a good time.
See more photos
The world famous clubs along the Sunset Strip opened their doors with live performances at the Roxy, Whiskey a Go-Go, The House of Blues, Key Club, Viper Room and the Cat Club, to name a few. In addition to the music there were many other venues as well as food stands.
The event drew thousands, having a great time. The festival was well planned and went smoothly thanks to West Hollywood Mayor Pro Tem. John Heilman and his team. The event was 14 months of hard work which resulted with an outstanding festival.
The Prince of Darkness, Ozzy Osbourne waited till darkness to come out on stage. His act had been the most anticipated; however, it was not certain who was having more fun at his performance, the concert goers or Ozzy himself. It was getting a little hot at the concert, so Ozzy sprayed down the audience with a fire hose. Ozzy played many of his hits from Black Sabbath to an enthusiastic audience; most of his fans there were born years after Ozzy had left the group.