First Fridays at Venice
Businesses stay open late along Abbot Kinney Blvd on the first Friday of each month to entertain locals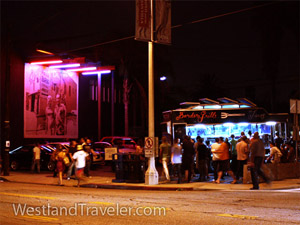 First Fridays let locals experience Abbot Kinney Blvd with businesses staying open late.
See more photos
On the first Friday of every month, the unique collection of businesses along Abbot Kinney Blvd stay open late. As you stroll down the sidewalk, there are art galleries, eclectic boutiques and trendy restaurants filled with lively crowds. The official hours are from 6 to 10 pm, and people are having good times here past midnight.
First Fridays is excellent way for Venice locals and others to get to know shop owners in a festive and gracious atmosphere. The street is named after the founder of Venice California, Abbot Kinney who wanted to create Venice as a cultural center and modeled the city after Venice Italy over a century ago. Now Abbot Kinney Blvd is the go-to place for late night dining, cool bars and independent shops with an attitude.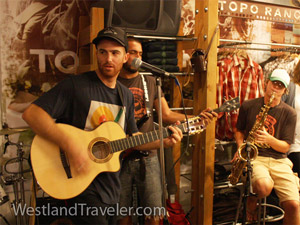 There is plenty of live entertainment and food on First Fridays.
See more photos
You will see many food trucks parked along the street. These are not the catering trucks that you see at construction sites. The trucks are serving great gourmet food at great prices. There is a truck from the Border Grill as well as the Gastrobus, which was serving a delicious pulled pork sandwich along with other tasty dishes.
There is plenty of good entertainment with many stores and galleries hosting live bands. Not only do you hear great music, many of establishments also serve free snacks. Make sure you pencil in the next First Fridays on you calendar for friendly and entertaining evening on Abbot Kenney in Venice.