The Annual Hare Krishna's Festival of the Chariots
Every summer this parade and festival comes to Venice Beach featuring floats, free food and dancing
Festival of the Chariots Photo Gallery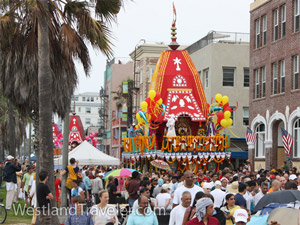 The main feature of the parade are the 40 foot tall colorful chariots
See more photos
Every year in summer since 1977, Venice Beach is the host of the Festival of the Chariots. It is a parade with three extravagant, forty foot tall colorful chariots being towed by large ropes by hundreds of people. The old timers in Venice will tell you about when the chariots were actually pulled by elephants. They did away with the elephants years ago due to safety reasons but it is spectacular to see thousands of parade goers' dance and chant in front of the floats. The parade begins at the Santa Monica Civic Auditorium, goes down Main Street and concludes at Ocean Front Walk Plaza at Venice Beach. The best part of the parade is when it goes down Ocean Front Walk along Venice Beach where this spectacle meets the colorful people of Venice.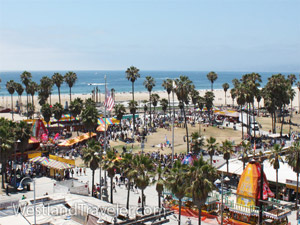 Thousands of people attended the 33rd annual Festival of the Chariots
See more photos
I went down to Venice Beach with my camera to once again to see the annual parade in Venice. The day started out overcast, but by noon the sun came out to make it a spectacular day at the beach. The Festival is put on by the Hare Krishnas. It is said the Festival of the Chariots which dates back thousands of years is now performed in every country across the world. The Festival celebrates Lord Krishna's return to Vrindadan with its origins from Jagannatha Puri, India. This is a free event and they are not even asking for donations.
There is also conflict at the Festival; there is a very vocal group of Christians with huge signs and bull horns protesting the Krishna's message. They have been a part of the parade for as long as I can remember. The protesters were surrounded by the Los Angeles Police Department, but I am not sure who is being protected by whom.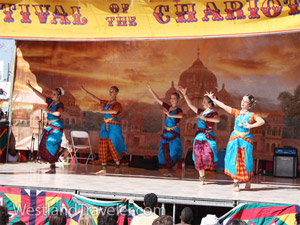 There were many performances at the Festival including dancers and musicians including "mantra rock"
See more photos
After the Krishnas park their huge chariots, the Festival begins. Bright and colorful and a very festive atmosphere would be the best way to describe it. Everyone seems to be smiling and dancing and having a great time. The Venice locals look at this as yet another reason to have a party.
The food is all vegetarian and there is a free feast for thousands; however, you can also get cheap food with lot shorter lines. There is entertainment of musicians and dancers. There are exhibits and booths bringing culture from India including yoga, reincarnation, meditation and animal rights. The plaza with its large grassy area is a perfect setting for the event.
If you're in Los Angeles next summer, I would highly recommend this event. However, Venice Beach has limited parking so keep that in mind when you make your plans.