Custom Hotel

8639 Lincoln Blvd
Los Angeles, CA 90045
Price Range:
Rating:
1-800-780-5733
Promo Code: 260363
Custom Hotel LAX
Not Your Typical Airport Hotel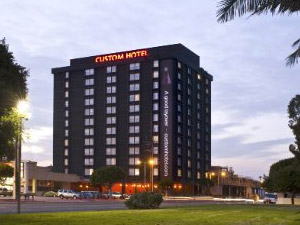 A "Hip" hotel within minutes of LAX
I'm always looking for something different when I choose a hotel, and the Custom Hotel near the Los Angeles International Airport (LAX) fits that perfectly. It's on Lincoln Blvd., which is actually part of Highway 1, and it's only one mile from LAX. This helps reduce some of the noise of airplanes landing and taking off with very little extra in terms of distance.
So why is this Custom Hotel so different from other travel hotels? Well, it has your basics: a reasonable cost per night, clean rooms, free Wi-Fi throughout the hotel, access to a pool and workout room, and a shuttle bus to LAX. There is a quality Bistro restaurant in the hotel that serves breakfast from 6:30am to 11:00am, and then dinner from 5:00pm to 11:00pm. By the pool there is a bar called the Hopscotch which has reasonable prices and serves appetizers and drinks well into the night.
What makes this Custom Hotel unique is the style and design of the place. The hotel was designed by the architect Welton Beckett and has a minimalist feel to it. The lobby has a modern look that you don't usually see in airport hotels, and there are model sheep on display that have been arranged in different ways each time I've been there. "Hip," is probably the best way to describe this hotel. There is music playing throughout the hotel and even different sounds like bird noises. The light fixtures are stylish though dim, and the walls and furniture kept pretty simple.
The rooms in the LAX Custom Hotel are also pretty basic. They are definitely small, but that's fine for an airport hotel. Despite the minimalist approach, all your needs are met: my rooms have always had an ipod dock and a flat screen television (not a big one, though); a small fridge with enough space to put my own stuff is provided, as well as a safe, which unfortunately is not big enough for a laptop. There are no coffee makers in the rooms but that doesn't bother me because they provide espresso shots in the lobby.
Probably the only real inconvenience with the Custom Hotel at this location has to do with parking. If you're traveling and you've rented a car at the Los Angeles International airport, parking at the Custom Hotel will not be cheap. There is valet parking but it costs 22 dollars per night. Other options would be to park on the street or in the residential neighborhood nearby if you don't want to pay the additional charge. If you don't have a vehicle then you can easily take the bus since there is a stop right in front of the hotel. The bus system is reasonably user-friendly so it's not such a bad option.
I guess if you're after a typical and uneventful hotel experience then the Custom Hotel is probably not for you. Some people have no interest in their hotel beyond the room charge. But if you want to spend your time away from home in a trendy building that has a memorable décor and a hip vibe then I definitely recommend the Custom Hotel. Every time I go through LAX I spend the night at the Custom Hotel and I always enjoy the experience. If you appreciate style and a minimalist approach, then you probably will too.