Casablanca Restaurant
220 Lincoln Blvd.
Venice, CA 90291
(310) 392-5751
Price Range:
Rating:
Casablanca Restaurant in Venice
A unique Mexican restaurant with creative dishes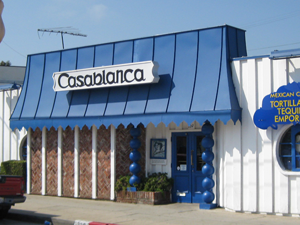 This Mexican Restaurant is charming with pretty good food. It is called Casablanca due to the theme of the Restaurant; it's all about the classic 1942 movie Casablanca staring Humphrey Bogart. The restaurant is filled with movie memorabilia, posters and art. It is also an OK place to bring the kids too. The service is prompt and friendly and they make you feel at home. Last time I went, there was a woman guitarist and she really set a romantic mood.
Casablanca, which you would think would have Mediterranean food by the name and the cover of the menu which has a map of Africa, is actually a Mexican restaurant, but the atmosphere and the food seem to work well together. And the food is not your typical Mexican dishes. There is an emphasis on fish with a selection of 11 calamari dishes. Last time I went I had the Pescado Ivonne which was a Pacific Red Snapper Sautéed and topped with baby shrimp, tomatoes and garlic. It was served with their rice and steamed vegetables. It was pretty good but I was inclined to add salsa to liven it up.
Some of specialties Casablanca recommends are Salmon a la Mandarina, a baked salmon filet topped with onions, bell peppers, Mandarin oranges and baby shrimp. For beef there is the Filet Mignon Ajillo- Broiled Filet Mignon topped with mushrooms, garlic and Japanese chiles. And Calamari Marisco served with crab & shrimp. There is also a great Sunday brunch which is a great value. The brunch includes all you can drink Champagne, Bloody Mary, Sangria or soft drinks.
One of the notable items of Casablanca is they start you off with homemade tortillas served with a mild green salsa with chunks of cheese and avocado. This is a real change from the typical chips and salsa they usually serve at Mexican Restaurants and healthier too. Some people come to this restaurant just for the tortillas they start you off with. The tortillas are made fresh over a brick incased griddle with an open fire in the middle of the restaurant.
They serve great margaritas and have a huge selection of Tequila. There is a separate charming full bar area.
On the weekends there is live entertainment. If you want a tequila shooter, they don't just give you a lime and a shot glass, they make a full presentation of it, with the waiter bringing around caddy with a shot of great tequila, a bowl with a lime wedge, bowl full of rock salt with a Clamato shooter.
There is a small parking lot; however, there is usually street parking along Lincoln Blvd. They do take credit cards, unlike some of the Mexican restaurants around. Casablanca is defiantly a one-of-a-kind restaurant with pink silk follower napkin rings, cute decor and romantic music. Perhaps a good place to bring a date, but not for a first date.