Andre's Italian Restaurant
6332 W Third St.
Los Angeles, CA 90036
(323) 935-1246
Price Range:
Rating:
Andre's Italian Restaurant
After a Day of Shopping at The Grove and Farmers Market, Head Over to Andre's Italian Restaurant
If you're in Los Angeles in the area near The Grove and Farmers Market and you're looking for a good restaurant , I recommend you head over to 3rd Street and check out Andre's Italian Restaurant. This is an Italian restaurant that's been around for decades. I know people who are adults and have been going there since they were kids, and they've never had a bad meal. It's funny that one of the best places to eat when you're at Farmers Market is not even in the market.
Andre's Italian is not a fancy Italian restaurant, though, so don't expect white tablecloths and waiters pouring expensive wine. The restaurant is actually setup as a cafeteria, where you line up and order and receive your food at the counter. It's cash only, but that shouldn't be a problem because the prices are so low. Once you get your food you can sit and eat in the air conditioned dining area or you can go outside where there is a nice patio.
As for the food, everyone raves about it. Each person seems to have his or her own favorite dish or condiment and they can't speak highly enough about it. There are 15 inch pizzas that start at $9; spaghetti and ravioli are the main pasta dishes and you can do half and half with the portions; veal and chicken are other choices if you don't want a lot of pasta; salads are available with Andre's Italian's famous salad dressing; and for desert you can go for traditional gelato or tiramisu depending on your mood. There are other options like mushroom or meat sauce for your pasta, adding salads, garlic bread, or cheese toast, or even an Italian sausage. The sauce is one of those homemade kinds that must have some kind of secret ingredient that makes it taste so good. The salad portions are just as large as the main dish ones, and as an added bonus you can buy a bottle of Andre's Italian's special dressing to take home with you to use on your own salads. The garlic bread and cheese toast are made the perfect way, with the edges crispy and the inside soft.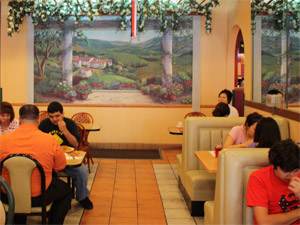 There's a good variety of food at Andre's Italian, and the cost is incredibly low. I was amazed at the portions that we got, and everyone was getting just as much so the restaurant must be making a profit only through the volume of customers. For me and my two kids the total came to around $15, which is cheap even by fast food standards these days. There was still more than enough food on our plates to make a filling meal, even as hungry as we were after the day of shopping.
Andre's Italian is definitely the place to go get the best value for Italian food in Los Angeles near The Grove and Farmers Market. If you go during the lunch and dinner rush, expect to wait in line, and don't be surprised by the wide mix of people who frequent the place. Even though the line-ups tend to be long due to the popularity of the place, the service is still pretty fast, and you'll be able to sit in no time. You have a good chance of seeing Andre himself who has been there all these years. Andre's Italian has earned its reputation by providing quality food, and lots of it, at more than reasonable prices. Check it out the next time you're in the Los Angeles area.