George's Coffee Shop
5439 Sepulveda Blvd.
Culver City, CA 90230
(310) 737-4238
Price Range:
Rating:
George's Coffee Shop in Culver City
This restaurant has been a hangout for locals since 1984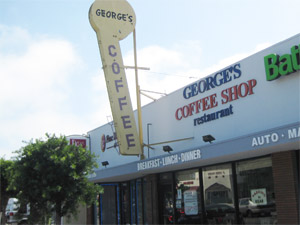 George's Coffee Shop restaurant has been serving up good food to locals for and has remained unchanged for over 26 years. I give it 4 stars due to a great value for an old fashion Coffee Shop style restaurant. It is has a simple décor with a large bar the runs the length of the main dining area and is a bit on the stark and clean side. It serves breakfast and lunch and closes around 3:00pm.
This place has a Korean flair due to the change of ownership 18 years ago to a nice Korean couple Monica and Sin Ymoon who run the restaurant and provde good service. They take credit cards, have take-out and good is a good place to bring kids.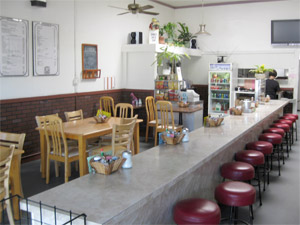 For breakfast, I recommend the French Toast with banana and bacon as well and the Denver and Spanish omelets. For a little Korean flavor, try it with rice and kim chi. There is a 2-2-2 breakfast special with two eggs, two pancakes and two bacons or sausages. There is also a Korean bulgoli omelet with thin beef. They also have good coffee. Recommendations for lunch are Mongolian beef or chicken and the Korean BBQ beef ribs with rice and salad.
George's Coffee shop is defiantly a hidden local hangout and has been a meeting place for business' of Culver City. It's been rumored that city plans and political campaigns have been born here over coffee and breakfast. When you are here you overhear conversations about city council, school boards and other Culver City functions by the local movers and shakers.
Easy free parking due to the large lot in back and they have a rear entrance. As you walk in through the back you can't help notice a huge display of photos of George's customers with many from the local police station. George's Coffee Shop is a great place to have a low cost meal and enjoy the paper with a relaxing homey feel.